Looking for a way to increase your sales? Well, let's discuss an incredible way to increase your sales with WooCommerce Product Badge Manager Plugin.
This post will discuss The Best product badges for woo-commerce to create featured product badges, new product stickers, coming soon badge, Woo Commerce trust badges, custom product badges, and lots more. Before going to the plugin overview, let's discuss some annoying questions that might be on your mind.
What Are Product Badges?
If you go to a popular e-commerce store, you might see some eye-catching stickers or badges on their product like best selling products, seasonal discount, % off, New arrival, coming soon product, etc. That's because they are using product badges to boost their seals by attracting buyers. You can also use some badges on your product with a woocommerce product badge manager. Using a woocommerce product badge manager is the most effective way To highlight your product in your store.
How Product Badges for WooCommerce Improve YOUR SALE?
Do you have an e-commerce store? If you have, you might have a common question on your mind about improving your sales. If you have that question on your mind, you need to know that product badges can Increase your sales by up to 60%. It would be helpful to use a product badge manager to increase your sales because it allows you to add an attractive promotion badge to your product.
Absolutely, that will grab the attention of your visitors. Moreover, you can also highlight different offers like seasonal discounts, promotional sales, % off, etc., with a custom-designed sale badge and enhance their conversions.
How to Add Promotional Badge on WooCommerce Products?
If you want to add attractive badges to attract your buyers, you may need to use an alternative way because there is no inbuilt option on woo-commerce that allows you to make attractive badges for your products. There are many plugins available on the market. But we recommend WooCommerce Product Badge Manager that we own.
WooCommerce Product Badge Manager allows you to create attractive badges. So let's start gathering knowledge about How it works and how to attract your buyers with the help of this plugin. You can easily add eye-catching badges to your products. You can also add unlimited cool and customized badges to your product with this plugin, and there is no limit.
Easy Installation & Setup
Create Unlimited Badge
Show Badge On Product Catalogue
Show Badge On Single Product Page
15+ Various Position To Show Badge
Floating Badge Top Of Product Image
And many more.
How to Display custom product badges on WooCommerce With WooCommerce Product Badge Manager
Step One: Install the plugin.
Get the WooCommerce product badge manager Plugin and go to the plugin then upload the plugin. After installing activate the WooCommerce Product Badge Manager Plugin.
Step Two: Creating Badges
Once you installed the plugin now let's create the first product badge. For that, go to the WordPress administration area and navigate to Woo Product Badges → Add New Badge.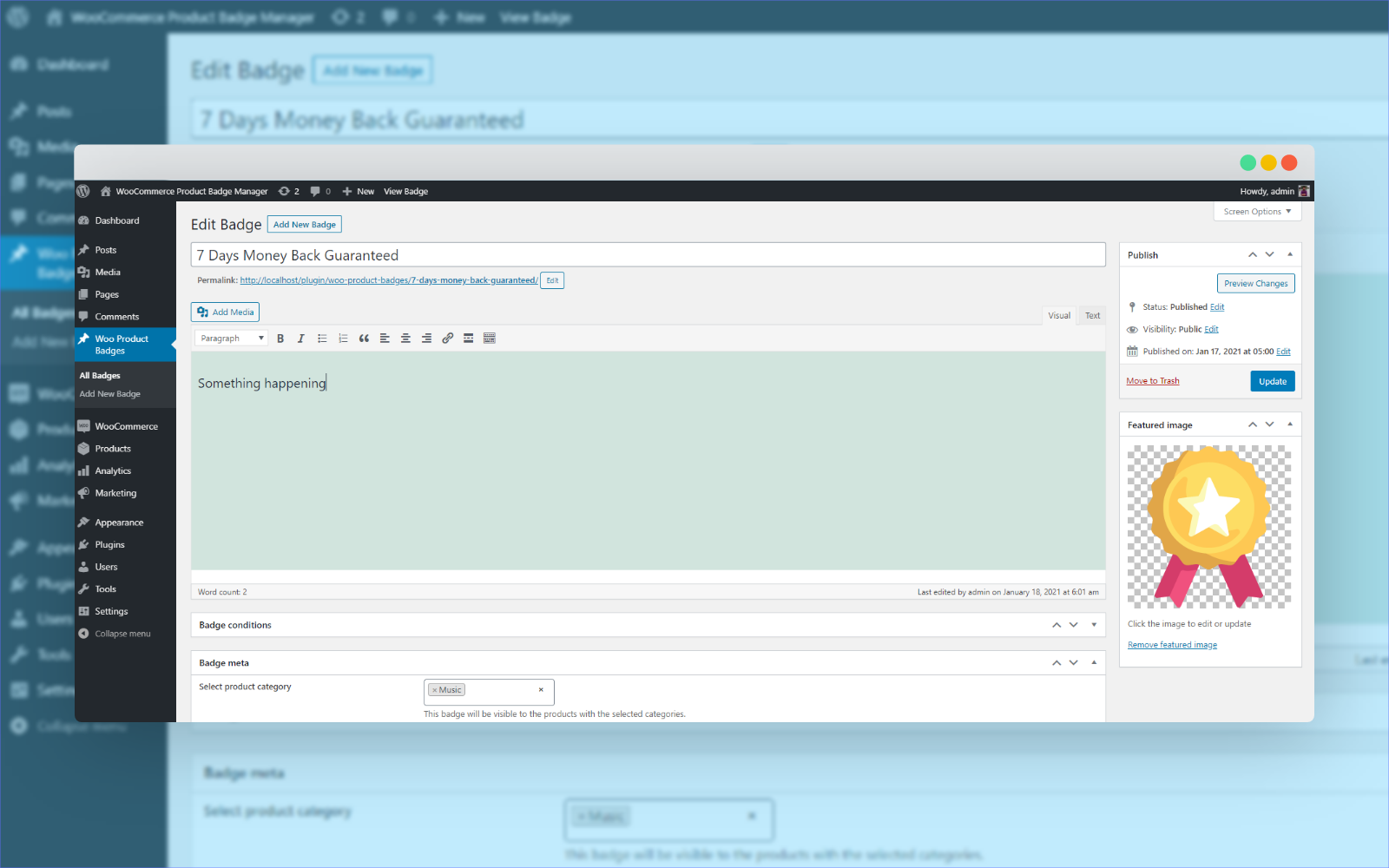 Step Three: Assign Badge To Single Product
After you created badges now, you should see all your badge as a list on Woo Product Badges → Woo Product Badges.
Keep in mind the name of the badge you intend to assign with WooCommerce products. Now navigate to Products, and you should see product listings there if you have at least one; otherwise, please go ahead and initially create a product.
Now click Edit on the product you intend to assign badge with, and you will certainly be redirected to the product edit badge. Now scroll down, and you should see a brand-new meta-box Product Badge Manager.
You can see a field called "Select Badges → Select option(s)" click on it, and you should see all badge listings on a select box. Click on the badge name you intend to assign with this product & click Update the product.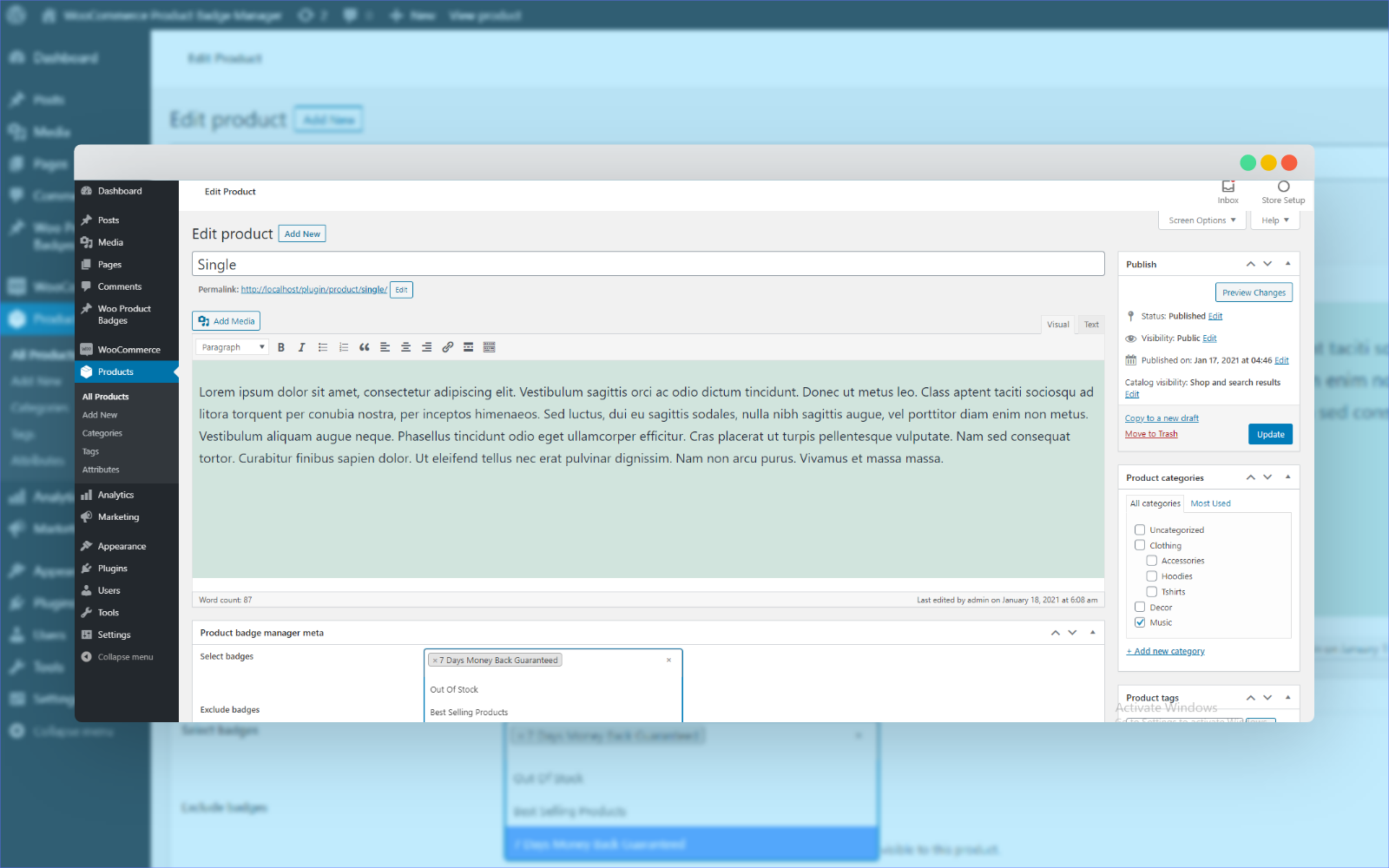 Step Four: Product Listing Page
This section includes all settings for product listing pages like shop, archives, and so on. On the product catalog page/product listing page, you can show the badge from version 2.0. You can select various alternatives for single product page badges & listing page badges. Fields are the same as the previous article.
Route: Settings → Woo Product Badge Manager → Product Listing Page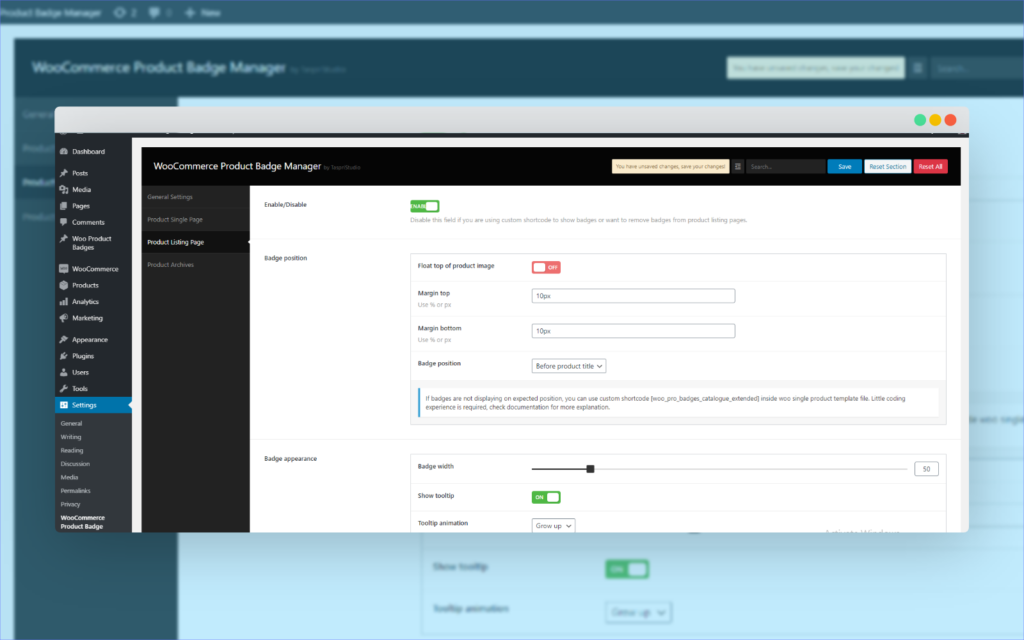 This video might help you.
Why should you use this Plugin?
A simple answer to this question if A little investment gives you better click-through rates and higher conversion rates, then why shouldn't you.???
Can I add a custom image (like a .png file) to create a custom badge?
If you are using woocommerce product badge manager Plugin, you can definitely use an image (like a .png file)  on the product. And I think it's the best way to create an exceptional customized badge to attract your buyers. With the plugin, you will also get some free editable ai and png files. 
Final thoughts
It's easy to use, and you can also attract your buyer with a customized, good looking, and attractive product badge. And it also contains extensive support for the newbies. So grab your customer's attention by making an eye-catching badge. If you have any questions feel free to comment. We are available to clarify your issue.
So grab this and catch the attention of your buyers.
Infographics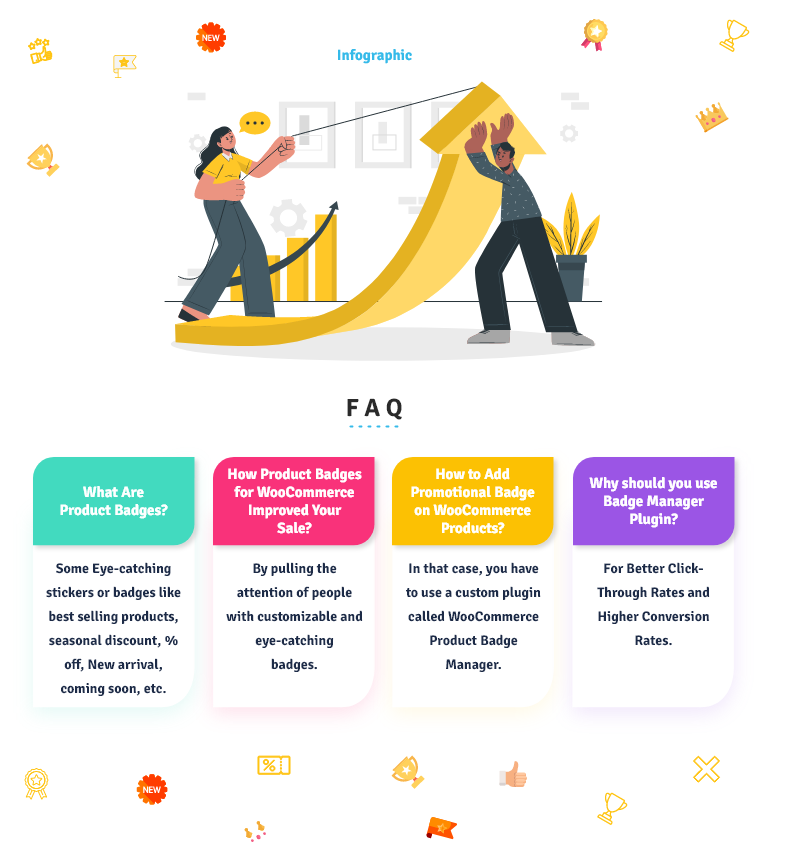 Read More Article
7 Best WordPress Email Subscription Plugins
7 Best WordPress SEO Plugin (2020)