Why is my WordPress site so slow ? This is a common issue now a day for WordPress users. If you Wondering about these problems then this article is for you.
We know a proverb that is " Patience Brings Good Results ". That means waiting for something until that doesn't show quality results. But in today's world, though, if a website takes a long time to load, people can't keep their patience and immediately leave it. According to Google, if a website takes more than 2 seconds to load the audience starts to lose interest. That's why increasing page speedup is so essential.
Think with Google shows an infographic on page loading. This shows that a website must load as quickly as possible. Why does anyone wait to pack for a website? When there have many better options or resources available in today's world.
As a site owner, if you worry about your website "Why is my WordPress website so slow" then you are on the right track. Through this article, I'm going to address all things that you need to know to speed up your website for better performance.
How to know if your WordPress site is slow or not?
Finding out the specific reason why the WordPress website is slow can be challenging. It could be for various reasons such as hosting, image, video, and embeds. You can use tools to measure the performance of your website. You can measure a website's loading time with a number of tools. Many of them show results with suggestions on how to improve them. Through this article, I will also show you how you can check your WordPress website speed with WordPress Speed Test. This tool is totally free. Let's move on.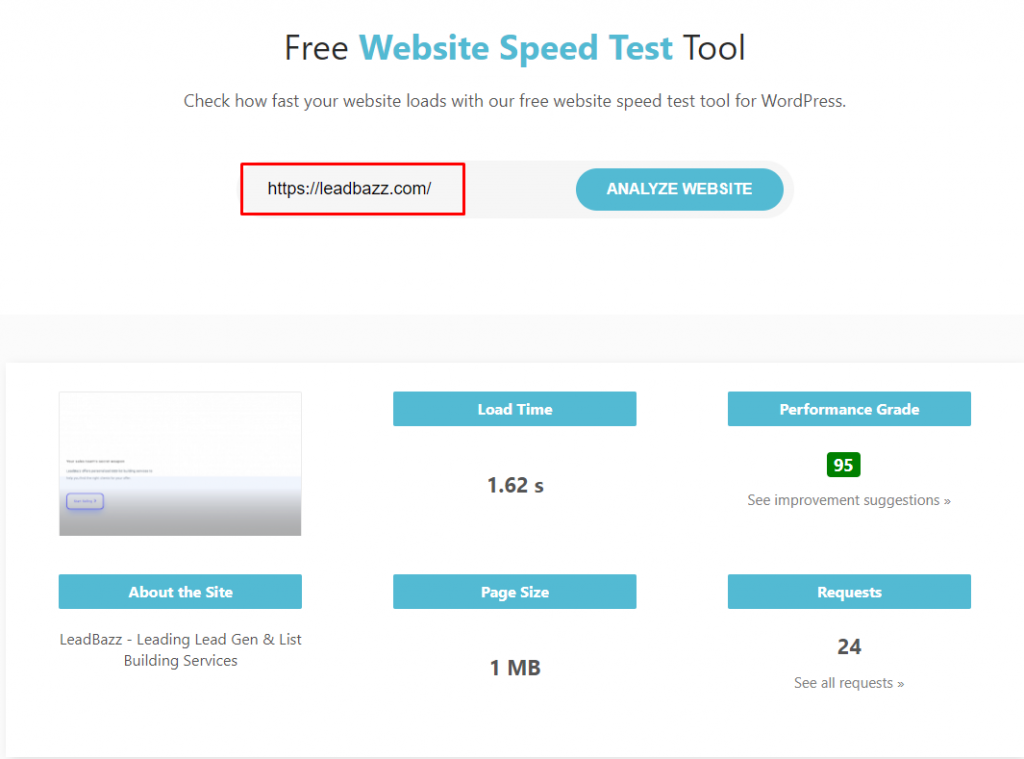 After opening the link put your website URL in the Analyze Website box. Wait for a few seconds, it will show you the results of your site performance. Always remember, 2 seconds is a good page load time.
If you what to try to check page speed with other tools you can. Here are 3 free tools you can go with.
We also recommend using Google's PageSpeed Insights. You can use this free tool to check your website's performance both on a computer and on a mobile device.
Why It Is Important to Speed up Your WordPress Site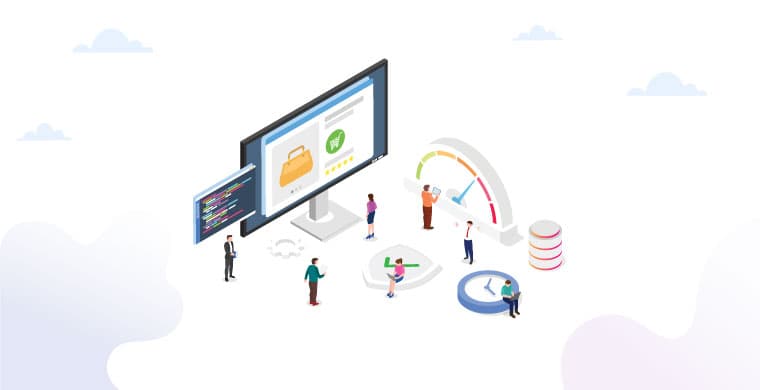 Increasing the speed of a WordPress website is extremely important. Your website's Google ranking, traffic, conversion rate, user experience, subscribers, and profits will all depend on site speed.
Your website will lose a user if it takes too long to load for them. When someone goes to your website and it takes too long for your site to load, the person will likely leave. Aside from losing the user, you also lose the possibility of selling the product.
As a service provider, it is important for you and your business to show on the google first page. Through this, you will be able to get traffic. And a good-speed WordPress website helps rank on the first page of google. Alternatively, if you have an e-commerce store, then speeding up your WordPress site will increase profit and user experience. That's why you should speed up your WordPress site.
Why is my WordPress site so slow? Reasons for a Slow WordPress Site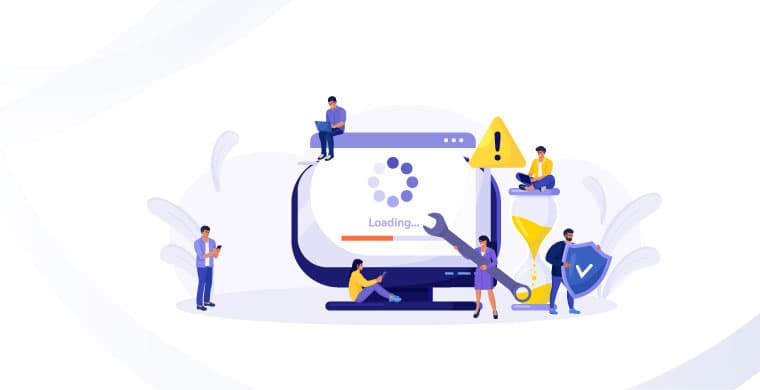 WordPress becomes popular because it is easy to use and time-consuming. That's why most people choose WordPress to show their creativity. But they can't grow as much as they could because of slow loading problems. That's why they lose traffic, can't get on Google's first page, and many other things.
There are many reasons for the slowness. Listed below are some of them.
1. Bad Hosting
All of your website's files and data are stored in web hosting. Shared or local hosting affects website speed. And website performance depends on it. That's why I always try to go with good hosting or managed hosting plan. That'll make your site faster. Just remember, cheap means a reason is behind it.
2. Plugin Issues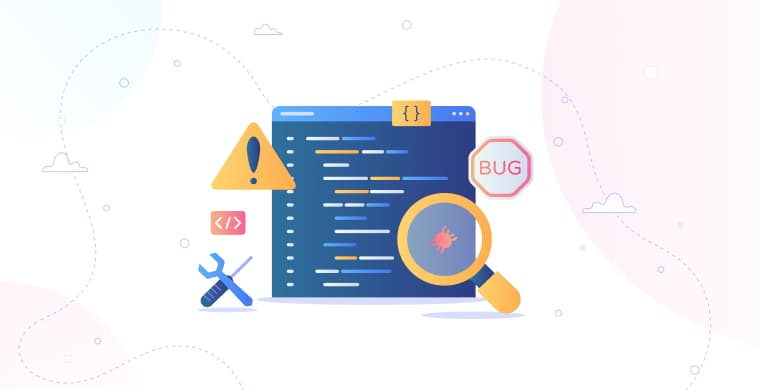 To function our website, we use many different types of plugins. Installing too many heavy plugins also can be the cause of slowing down. When we use third-party plugins or extensions that will affect negatively our website's performance. Because some of them have many unnecessary things like Js files that cause an effect on loading time.
3. A Heavy Theme
Now a day most website owners focus on design. To make their website look elegant, people use heavy themes. But those heavy theme has unnecessary code to make the design beautiful. And also have tons of CSS and JavaScript. All of those make WordPress sites slow down. Using heavy themes on your WordPress website is also the reason for slowness.
4. Not Optimized Images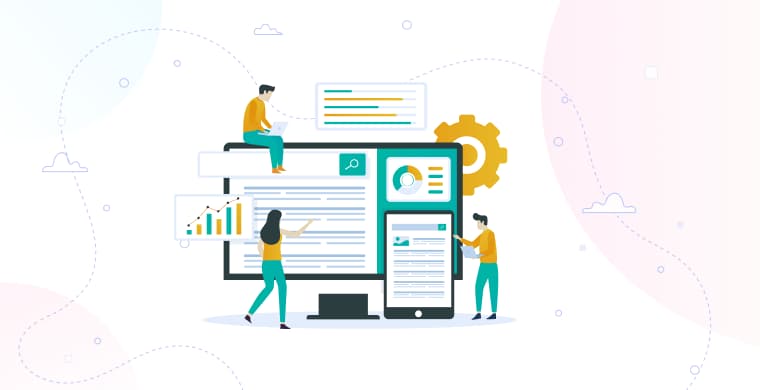 Having not optimized images can result in your website loading slowly. Before publishing any image on your WordPress site, make sure it is the right size and is optimized with the web extension that is recommended by Google. You can use Sqooes to optimize your images and also convert them to web format.
5. Ads and Pop-Up
Ads and Pop-Up are great sources of income for any website. But too many Ads and Pop-Up are another reason for slowness. Don't overload your website with ads and pop-ups. On a page, it is good to have two or three ads.
How to fix slow WordPress websites: The 15 Most Important Factors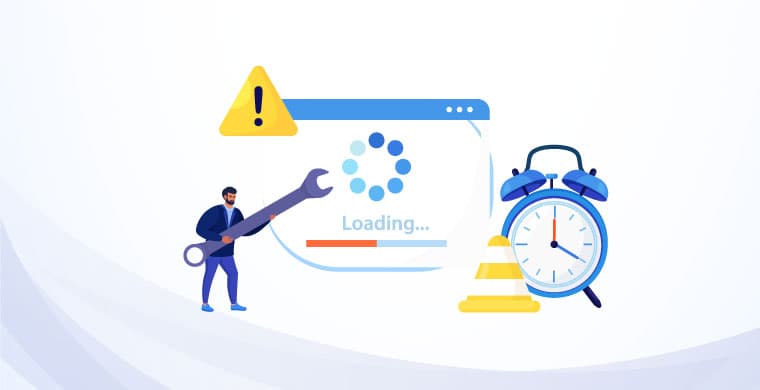 We know some reasons for website slowdowns. Now let's discuss some tips that may help you speed up your WordPress site instantly. Let's get started.
1 Choose a Quality Web Hosting
Any website can store files and data on a web host. It is a must needed for any launching website. Hosting is necessary for connecting to the internet. And a good Webhost is the key reason for your site speed. That's why choosing good hosting is essential for your WordPress site.
Most hosting companies offer common types of hosting plans Such as Shared hosting plans, Dedicated hosting plans, Virtual private server (VPS) hosting plans, and Managed WordPress hosting plans.
My recommendation is always to choose Managed WordPress hosting plans because those companies offer automatic WordPress updates, 24-hour customer support, automatic backups, and more, which protect your website.
2 Keep Your Site Up to Date
If you're a WordPress user, you'll receive a lot of daily notifications about updates to your plugins and theme. By updating, you will be able to fix security issues on your website. You should always update your WordPress theme and plugins to keep your site secure. You should update the WordPress updated version, the PHP updated version, the HTML updated version, and the WordPress themes & plugins.
3 Choose a Speed Optimized Theme
WordPress theme forest gives you the flexibility to choose themes according to your needs. When we choose any theme we see how rich they are and which functionality they are giving. Such as sidebar, content management system, slider, widgets, and many more. Most of the time we forget these types of themes can slow down your hosting server.
So before choosing a theme, you should consider one thing which is page speed. It is very important for your website. Check the page speed of the demo section. After that decides to purchase.
4 Reduce Database Calls
Keep the number of database calls to a minimum to speed up the loading of a WordPress site. As a result, the whole process will be faster. Installing a caching plugin is one way to reduce database calls. By doing this, popular pages and posts will be stored in the server's memory instead of being retrieved from the database every time they are requested. Additionally, make sure your site is hosted on a fast server and use compression techniques to cut down on server resources used by your website. Alternatively, you can hire a developer to help you with this process since it is quite important for speeding up your website.
5 Optimize Your Database
WordPress has a function that automatically saves everything. Because of that every day lots of trash items are filled and make slow down your site. For improving your site performance you have to clean up your database. you can do it manually from phpMyadmin. If you do not have enough knowledge about tech then you can do it by using a plugin.
6 Decrease Server Requests
Overburdened servers are one of the major causes of slow WordPress websites. There can be a considerable impact on the speed of the website as a result of requests taking longer than expected. It is possible to decrease the number of requests made by your site in a number of ways. The following are some of them:
When possible, reduce the number of images on your page and use lossless compression
Use fewer fonts and reduce the size of graphics files.
Posts can be displayed with fewer comments,
If certain features aren't being used, disable them,
Don't use widgets that aren't being used.
Make sure your website is up-to-date
Keep the plugin count low.
7 Use Optimized Images
Image is most important for user experience. It engages visitors but can slow down your website. Before uploading the image optimize it to get the first load speed.
You can do it by using the WordPress plugin. There are lots of plugins available here in WordPress. Most of them are free. Without losing the quality of the image you can compress it. You can do it manually also by using photoshop or other image editing tools.
8 Enable Page Caching
It's also possible to speed up your site with caching. Using a caching plugin is one of the best ways to do this. There are a lot of caching plugins available in WordPress that you can use.
The most popular caching plugins are.
WP Rocket
WP Super Cache
W3 Total Cache
SG Optimizer
You can do it manually also.
9 Use a Content Delivery Network (CDN)
A content delivery network (CDN) is a network of servers that deliver web pages and other types of web traffic. This can help to improve the speed of your website by caching copies of your files closer to the users' browsers. This can often result in faster loading times for pages, even on relatively slow connections. Additionally, using a CDN can increase the reach of your website by distributing your content across a large number of servers.
10 Enable Gzip Compression
Gzip Compression is very helpful to reduce website size. It can reduce at least 70% of your website content. And this is more effective to save loading time.
You can Enable Gzip Compression by using WordPress plugins such as PageSpeed Ninja, and Breeze. Without using WordPress Plugin you can do it.
11 Minify CSS and JS Files
Removing unnecessary CSS, HTML, and JS Files will reduce loading time. By using the WordPress plugin you can minify your CSS, HTML, and JS File.
Through minification, you can optimize your WordPress website. It also saves your time and effort. There are top 3 plugins that will help you to minify.
Autoptimize
Fast Velocity Minify
WP Super Minify
12 Deactivate Unused Plugins
It is not a good idea to keep unnecessary plugins & themes. If your website has many plugins & themes that you are not using, then delete them. Because it can slow down your site's loading speed.
13 Don't Upload Audio/ Video Directly to Your Site
Your site loading time will be greatly affected if you upload any video or audio directly to your site. You can upload it this way, but if you don't optimize it, it will be a big slowdown. WordPress has a feature that will optimize your Video or Audio automatically.
14 Add LazyLoad to Your Images
Lazy loading is a way to reduce webpage load time. It is mostly used on websites or web apps. It doesn't show the image, video, or audio until a user scrolls down.
There are many free plugins here in WordPress. You can use any of them. For the image, you can go with BJ Lazy Load. Or for Video, you can go with Lazy Load for Videos.
14 Use the Latest PHP Version
It is the PHP programming language that is used to write WordPress. It is also the language that is used by the hosting server. Hosting companies always use the latest versions of PHP.
Try to use the Latest PHP Version on your website, it will boost your website speed. Make sure you use the latest PHP version on your website. Check your website to see the version installed. If you see an old PHP version, let your hosting company know. They'll update it for you.
Conclusion
This post about WordPress Speed optimization will help you improve your website's speed. First test your site speed. Then follow the steps we have explained. Then see if the results are what you want. I am sure you will get the results if you follow our guidelines. So make sure you implement all the steps on your site in order to get the best results.
Feel free to share this post with your friends. It will be helpful to others as well. Feel free to ask any questions about this post in the comments below.
You can read the following articles also
How to find out if a website is Built on WordPress? (6 Easy Methods)
How to claim Pinterest on WordPress (2022)
How to change link color in WordPress (3 Easy methods)
10 Ways to Increase Google Page Speed of WordPress site
How to Find WordPress Page Id or Post Id – Quick Guide 2022