"How to find WordPress page id " is a question that many WordPress users have. If it's on your list of questions, then follow the steps below to learn how to Find WordPress Page Id or Post Id. This article will go over What Are WordPress Page and Post IDs? and how to find a page or post id.
What Are WordPress Page and Post IDs?
You've probably heard the term "WordPress page ID" or "WordPress post ID," but do you know what they are? WordPress pages and posts have a unique ID that connects them with other data in your database. They're used to identify a WordPress page and post uniquely. It's important to be able to identify pages this way so that easily can make changes.
You can see this ID at the end of every URL on your website, as well as within the code of each individual blog post or webpage. The first step when you're having issues is "finding out what the ID is so that you can find specifics about it in the database; then, you might be able to fix any problems you're experiencing! There could be other reasons as well.
How to find WordPress Page id
If you're worried about how to find the page id then don't be. You can quickly identify the WordPress page ID because finding the WordPress page ID is a simple procedure. Let's look at how we can see the page id easily.
Find WordPress page id in WordPress Dashboard
All you have to do is go to the page area of your WordPress dashboard after logging in. Now find out the page which you want to know the page id and hover over it. A link will display in the lower-left corner of your screen. You will find this kind of link http://test.com/wp-admin/post.php?post=4&action=edit.
The id of that page is the number provided after the post text. It is 4 in my case.
Another method is to locate the page, then go to the edit option and look at the URL of the page. You will see the same type of link where you can find the id.
Find WordPress post/category and others id in WordPress
The process for finding the id of a post or category in WordPress is the same as I've explained earlier. You have to find the post or category, then hover over it or go to the editing mode to find the id, as depicted in the figure below.
Do the same procedure to find the category id of a category.
Find WordPress Post/page Id with Plugin.
If you want to find post/page id In large quantities or don't want such kind of hassle, then you can use a plugin. With a plugin, you can easily find your post or page id. You are not required to complete any tasks.
You can find all of the IDs next to the content. Follow these steps to do so:
Step 1: Install and Activate The Plugin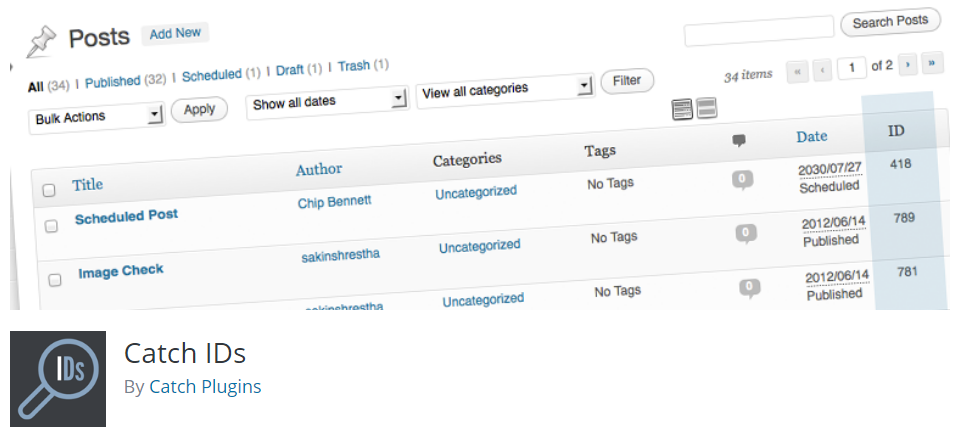 Catch IDs is a handy plugin that helps to view the Post ID, Page ID, Media ID, Links ID, Category ID, and Tag ID safely without leaving your WordPress Admin page. It was developed as an easy way for Catch Themes users to access those elements easily.
Step 2: Now go to the Plugin settings and choose the option you wish to display. Go to all page/post/category pages after completing these two steps. You'll see that the id is now displayed automatically alongside the post or page.
Other plugins that can be used to reveal the post/page/category ID are listed below.
The second plugin in our list is Reveal IDs.Reveal id is a plugin for WordPress that reveals entry IDs on admin pages, which were removed in version 2.5. In this way, users working with themes or plugins can see these entry IDs and use them in their work more easily! It is also one best plugins.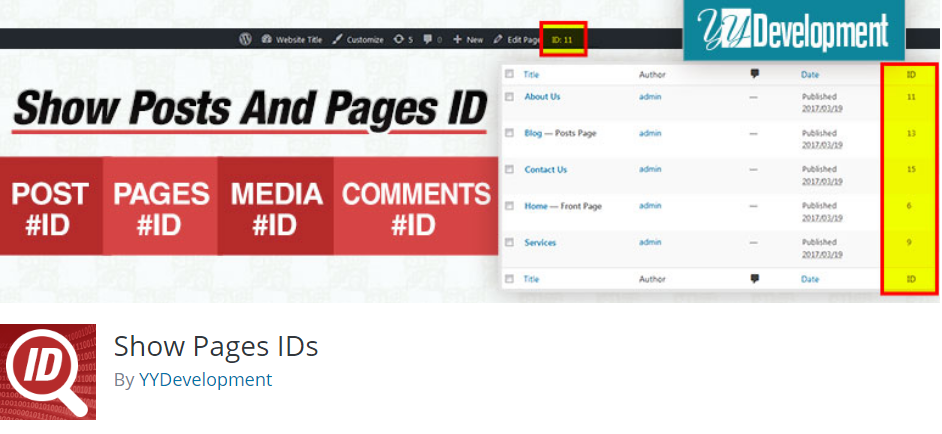 Show Pages IDs is another plugin on our list. It performs the same functions as the other plugins. In the WordPress dashboard, it will display the page, post, and category id. Display ID for woo-commerce products, product categories, and product tags is also an option.
Final Thought on How to Find WordPress Page id and Post Id
I've explained what a page or post id is and how to find one in this post and described different solutions, one from the WordPress dashboard and the other using a plugin. If you don't need to know all of the IDs, you can skip to the second step. However, any of the plugins can be used if you need to know almost all IDs. The plugins all work in the same way. You will only notice a difference in the plugin's UI; otherwise, all of the plugins work in the same way. I hope you found this article useful. If you can mention it in the comments section, that would be great.
You can read the following articles also :
Best font plugin for WordPress 2021