Pros and Cons of WordPress
WordPress is an open-source content management system. It was originally built in 2003 by Matt Mullenweg and Mike Little to provide a platform for blogging. Over the years WordPress has evolved into a fully-fledged CMS, with more than 60 million websites using it worldwide. It is used as a Content Management System (CMS) meaning that people can easily add pages and posts of text, images, or videos.
As you may be aware, everything in this world has both good and bad features.WordPress also has certain drawbacks, though the positives outnumber the drawbacks. So I've compiled a list of the pros and cons of WordPress so you can make an informed decision. Is it acceptable to use it or not?
Advantages of using WordPress
Easy to get started
As a beginner, WordPress is the simplest method to get started. It is not only useful for beginners but it is also employed by a number of well-known websites. WordPress is the CMS of choice for more than 60 million websites. With WordPress, you can simply develop a website in a few hours.
User-Friendliness
WordPress is one of the most popular content management systems on the web, powering over 60 million sites. It's not hard to see why people love it–WordPress has a user-friendly interface and tons of features that make blogging and site management easy. Another statistics says that WordPress is used by 41.4% of the top 10 million websites as of May 2021. People are choosing WordPress most because it has many more features. Moreover, it is user-friendly. If you just want to make simple WordPress blogs for any kind of expertise, you don't need any coding knowledge.
Customisable & Adaptable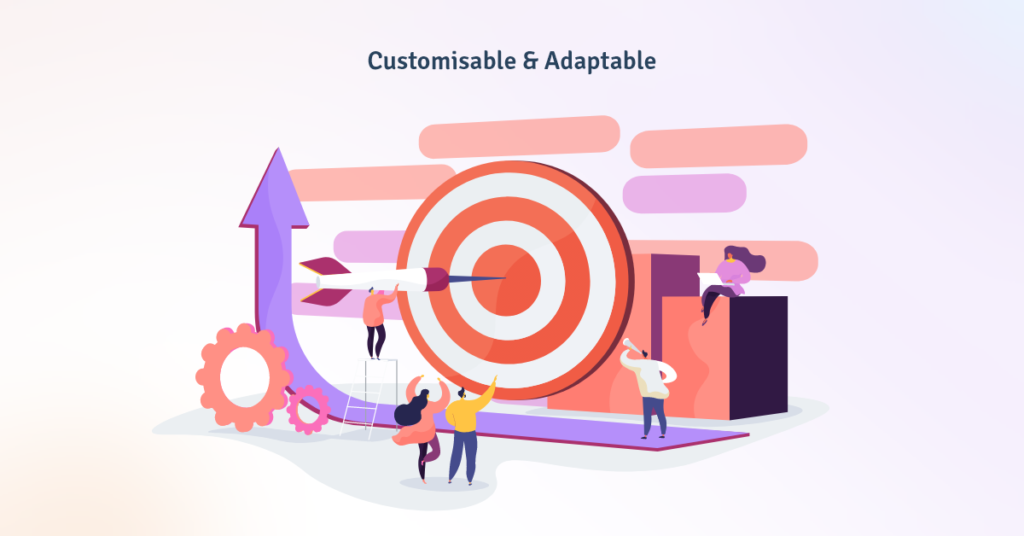 WordPress is adaptable and customizable. You have complete control over the look of your website. You have the ability to create any type of website you want. The most interesting part is that you can customize WordPress to match your particular requirements, whether you sell online courses, sell through an e-shop, are an affiliate marketer, or have a blog site.
Numerous Themes to Choose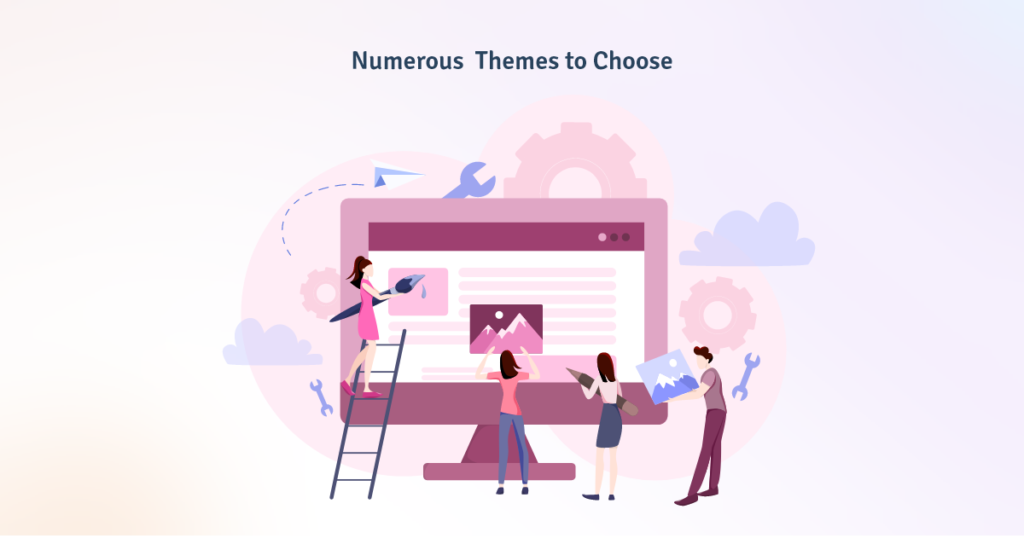 Design matters all of the time and in all instances. And one of the best reasons to use WordPress is that it has a variety of attractive themes to choose from while building a website. You can select a theme and apply it to your website. Whether you're building a personal website, a blog/affiliate site, or a website for an organization like Crush, you'll always be able to find themes that fit your sector. Because WordPress has a variety of themes for all types of niches.
Numerous Plugin to Choose
A WordPress plugin enhances or expands the functionality of a WordPress site. Plugins can be free or paid for with different developers having different pricing models. Some common examples include social media buttons or SEO optimization tools like Yoast SEO which helps your site rank higher on search engines like Google! There are more than 54000 plugins available that can make our work easier.
SEO Optimized
Most people on the internet do not go to the website directly. Everyone uses a search engine such as Google, Yahoo, and others. According to a study, Google receives 5.6 billion searches every day. So, SEO optimization is more important. And, in this case, WordPress is the greatest option because it is more optimized for SEO than other CMS. For the finest SEO optimization, you can also utilize any SEO plugin.
Responsive
WordPress also has the advantage of being always responsive. Mobile browsing is becoming increasingly popular these days. As a result, it's important to remember that the website should be mobile-friendly.
And, fortunately, almost all of the themes are responsive, so mobile devices will not be a problem.
Great for e-commerce websites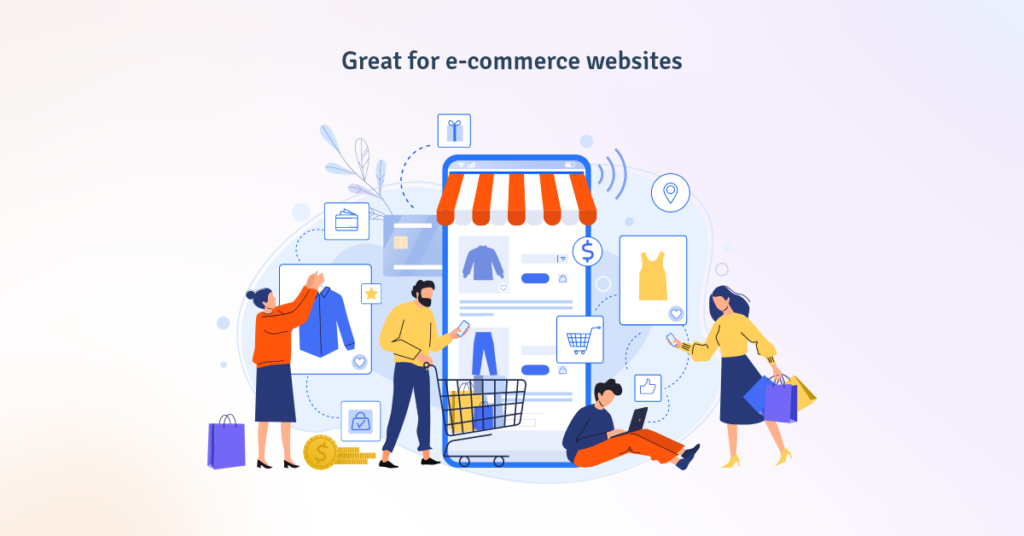 The number of people buying and selling things on the internet is growing every day. The majority of consumers want to buy something without having to go out. And WordPress plays a significant role in this field. WordPress is used to create a large number of e-commerce websites. You can easily create an e-commerce website using WordPress. WordPress is used by several well-known websites for their e-commerce websites.
Huge (and Supportive) Community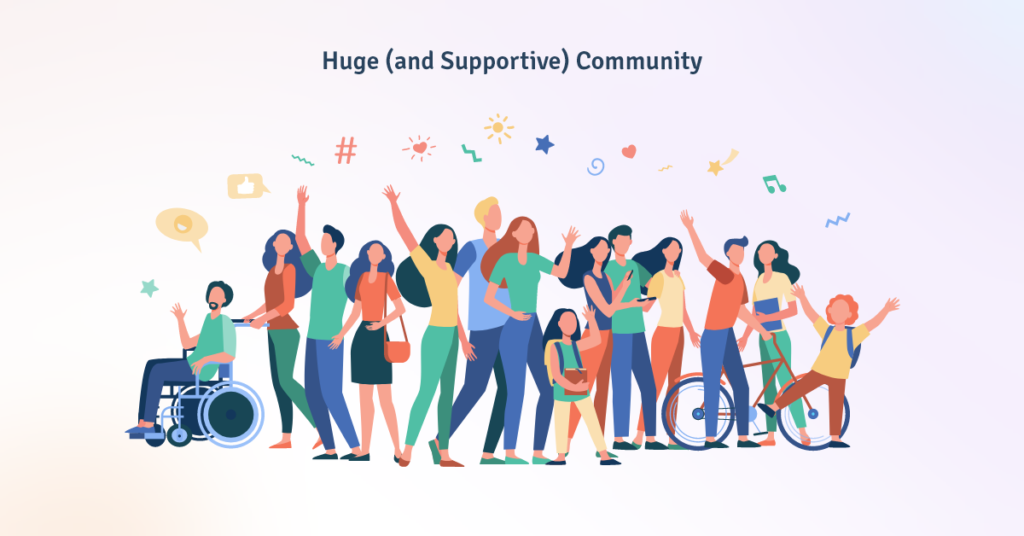 Because WordPress is used by 40% of all websites on the Internet, it has a huge community. As a result, it grows into a large community. So every time you need any help, you can reach out to the community.
Disadvantages of using WordPress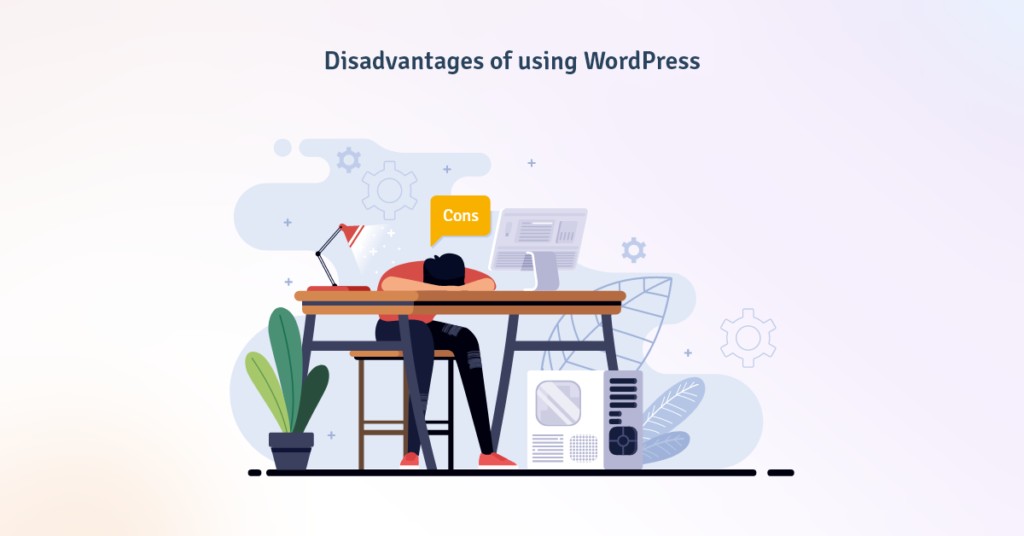 Even though WordPress is free, but most of the premium themes and plugins are not. As a result, you will have to spend money at some point. However, not all are paid; you can do it for free as well. But if you want more functionality, you can definitely purchase a premium theme or plugin.
One of the disadvantages of using WordPress is If you are not a techie, customizing the design and maintenance of your site can be challenging.
Because WordPress is the most popular content management system (CMS) in the world, it is attractive to potential hackers. Although WordPress is doing its best to improve security, you must maintain your site upto date at all times for security purposes.
Although the majority of plugins are created by a professional developer, but some are created by an amateur developer. As a result, it has the ability to damage your website. So, you should use a plugin that doesn't have a lot of negative feedback.
Older plugins have a tendency to break the site and make fixing significantly more difficult.
There may be better alternatives if you're looking for an eCommerce platform.
Sad to say, there is still no built-in backup feature in WordPress.
Who can use WordPress?
WordPress is the most widely used content management system in the world. It's also the best option to build a new website. WordPress makes it simple to establish a website. It doesn't matter if you're going to sell items online or write blogs. If you want to establish a new blog, create a website for your business, or launch an e-commerce site, you should use WordPress because it is the most user-friendly alternative.
WarpingUp:
I've outlined some advantages and disadvantages of WordPress in this post. It is entirely up to you to decide which CMS to use. WordPress, on the other hand, is the ideal alternative for newcomers and the general public, in my opinion. If you're a developer, you can use any of them, but if you're not, WordPress is the way to go. Because it is the most straightforward CMS to use. Apart from a few disadvantages, there are numerous benefits. Whether you want to start blogging or something else, I believe it is the greatest option for a beginner.
You can read the following articles also :
Best font plugin for WordPress 2021