If you are looking for a solution to delete your WordPress account or want to know how to delete wordpress account, then this post is the perfect place. With these steps, you will be able to delete your WordPress account without any hassle and in a very short period of time
WordPress.com is the perfect platform for bloggers who are looking to create a professional blog without any hassle. Its easy-to-use interface and simple design make it possible for anyone to start their own blog in just 5 minutes! It offers free hosting to those who sign up for it. This means you don't need to worry about paying monthly hosting fees or purchasing your own domain name and web hosting services, which can be expensive and complicated. With WordPress.com, you just have to create an account and start posting your content!
Reason to delete a WordPress account
WordPress.com is an excellent tool for those who just need some help with the basics of blogging, like adding an image or uploading content without having to worry about hosting and domain name registration. But many cons come along with using wordpress.com due to not being able to customize the layout and functionality of your website as much as you can on self-hosted WordPress sites. This means the site may be less elegant, have more limitations when it comes to the plugin, theme customization, etc.
Because of this limitation, you can be frustrated, like I was, and decide to switch platforms and start over. That may be a valid reason for permanently deleting a WordPress account.
Let's look at how you can permanently delete your WordPress account.
It's a simple procedure. Your WordPress website will be gone in a matter of seconds. Follow the steps I've outlined below to delete your wordpress.com account.
How to Delete WordPress Account
Step 1 :
Go to WordPress and log into your account. And click on the profile picture.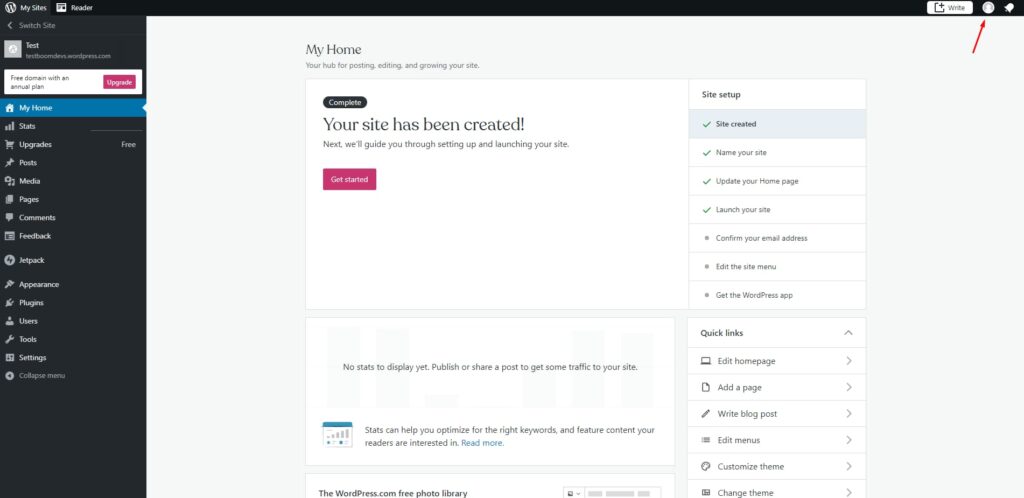 Step 2 :
Proceed to account setting. Scroll down. You will found the "Close Your Account Permanently" option. Hit on the button and then Close your account.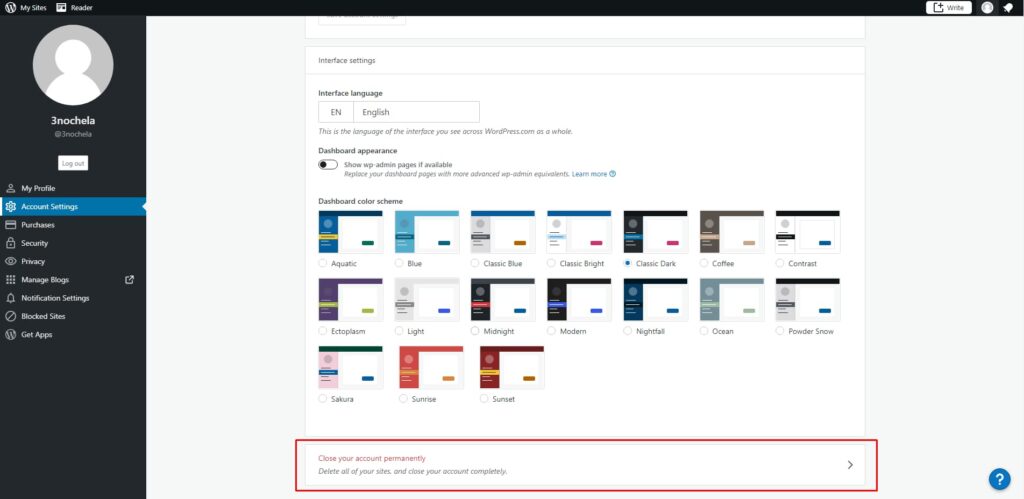 Remember that deleting your WordPress account also removes all of the websites associated with your profile. It's also an irreversible method. You will not be able to recover your website if you delete your account.
But if you don't want to delete your profile, just want to delete some of your websites, then follow my steps.
Delate WordPress site only
Step 3:
Go to My site >> Settings >> General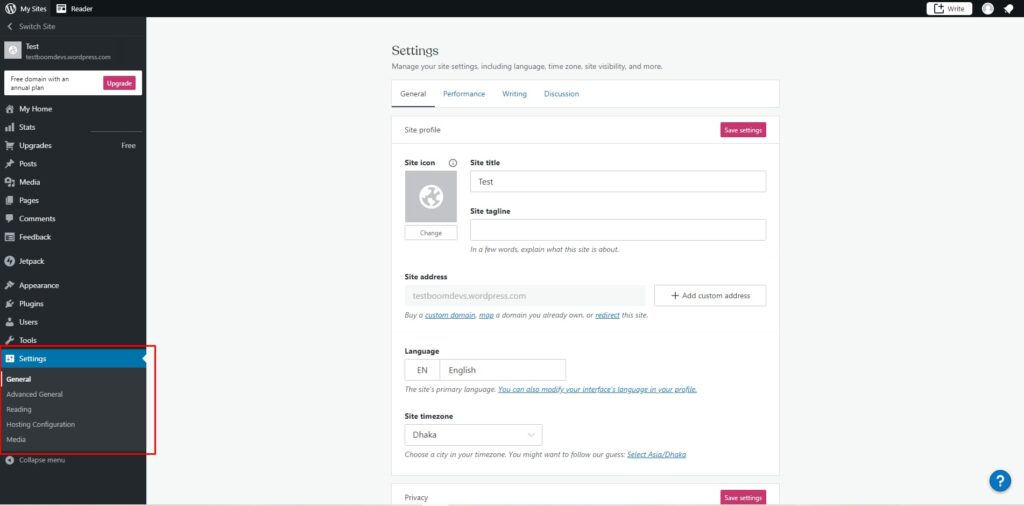 Scroll down. You will find Delate your site permanently option.

Hit on that. Then it will tell you to export content. You should export your content and media because you can not recover the content if you delete your site permanently.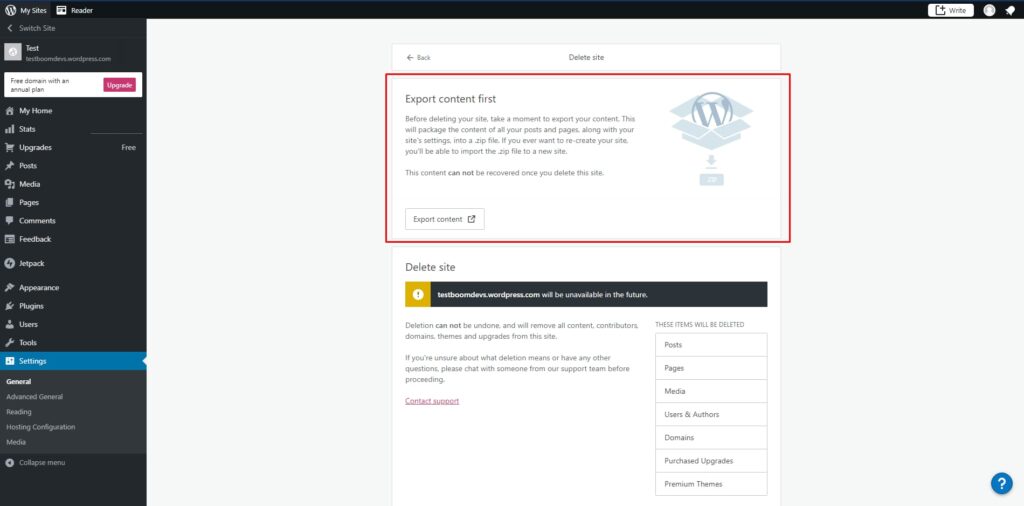 You can download the export file from here, and also WordPress will send an email with a link. After downloading the export file, come back to the setting page and hit on the delate site option.
It will ask you to type your website name in the box to confirm that you want to delete your site forever.
After typing the address, then hit delete this site, and boom, your site has been deleted successfully.
FAQ
Is it possible to use the username after I've deleted my account?
No, you won't be able to use the same username on a new WordPress account even if you delete the old one.
After I delete my old account, can I use the same email address?
Yes, but you'll have to wait 30 days because WordPress saves the date for 30 days. After 30 days, you can create a new wordpress.com account using the old email address. However, you will not be able to use your old email within 30 days.
Does Account Restoration possible on wordpress.com?
It's possible. You have 30 days to contact the support team to get your account recovered. Your account will be reopened with the help of the support team. However, if you contact support after 30 days, they will be unable to help you because the data will be purged after 30 days.
Wrapping Up
You can leave the wordpress.com website if you're looking for a platform that gives you more choice and control. You can use wordpress.org as a starting point. It is also a free and open-source publishing platform that you can use to create your own blog or website. It's often used by bloggers and individuals who want full control over their content. WordPress includes blogging, commenting, social media integration, spam protection, and more.
This article may be helpful for you to delete the wordpress.com site. If it was helpful, then let us know by sharing your thoughts in the comment section.
Read More;
How to Add recaptcha to Contact Form 7 (2021)
How to Duplicate a Page in WordPress (2021)