You may want to make sure that your blog posts are easy to find. Creating a separate page in WordPress for all blog posts is one of the best ways to do this. If someone is looking for anything specific, they can use that tab to see what has been added since their last visit. WordPress displays your post on the home page by default. If you want your post to appear on a different page, you must do so manually.
So, if you're wondering How to Create a Separate Page for Blog Posts in WordPress, you've come to the right place. I'll show you how to create a dedicated page that just displays your post. So, let get started.
Do we need a dedicated page that shows the only post?
A blog is secondary if you are a business owner. Your primary goal should be to figure out how to introduce your service. Aside from that, you should publish a post to increase traffic. So, if you want to feature your product or service on the home page, you'll need a dedicated blog page. Because by default, WordPress shows posts on the Home page.
And If you're a blogger, it's essential to create a blog page. A dedicated blog page will keep all of your content in one location and accessible to the reader. It also saves time searching for older posts or searching through old subjects for something written a long time ago.
As a result, creating a dedicated page for your post is essential. This is something you should do whether you're a blogger or a service provider.
How to create a separate page for blog posts in WordPress
It's a simple procedure. The process takes less than a minute to complete. You don't have to be an expert in WordPress to do this. All you need is a basic understanding of WordPress. So let's get right to the point.
Step 1: Create a page for your blog.
The first step is to create a page that will store all of your content in one area. Go to your WordPress dashboard first. After that, go to the page section. Then, create a page for your blog after you've arrived. You are free to call it whatever you wish. However, it is always referred to as a blog. As a result, it might be a better solution for you.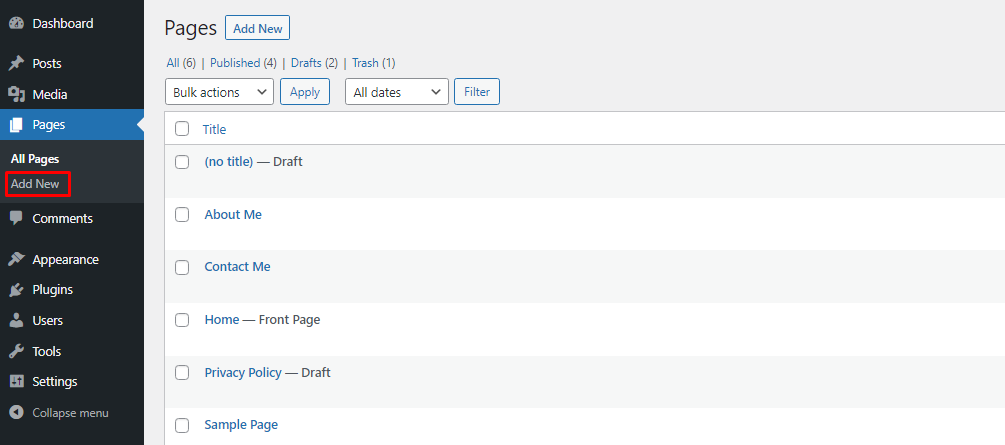 You don't need to put any content on this page. All you have to do is create a blog page. I'm assuming you already have a Home page. That's why I am not asking you also to create a Home page.
Step 2: Display New Posts on the Blog Page
It's now time to tell WordPress to show all of your posts on that page after you've created the page for your blog. To do so, first, navigate to the settings area. Next, select Reading from the menu under Settings. You'll come onto a page like this.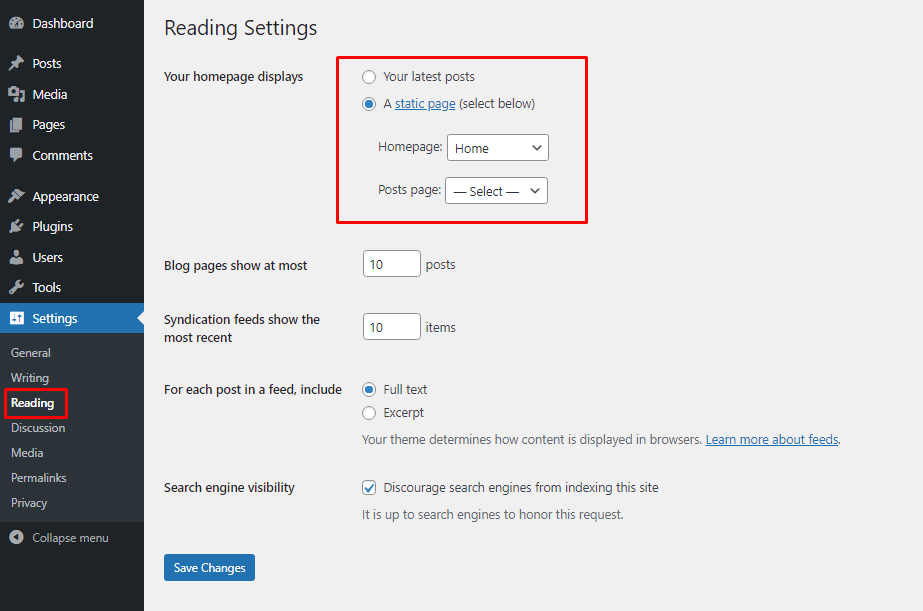 You'll note that by default, your homepage display option is set to Your latest posts. It is required for you to make a change. It should now be set to A static page. When you do this, you'll notice that you have two options for selecting a homepage and a blog page. Now, for your Home page, choose the Home page, and for your blog post, choose the blog page that you previously created and then press the "save" button.
Go to the blog page now. Your blog post will appear on this page, as you can see. This page will display all of your posts.
Note: Due to the themes, the Appearance of this page may be different for you. You can change the layout of this page if you don't like it. In my opinion, popular themes, such as Astra, GeneratPress, Blocksy, and others, should be used because These themes provide a beautiful blog page layout.
Step 3: Place the Blog page on the menu.
After you've completed those steps, add that page to the menu. So that visitors may easily find and visit the blog page. Navigate to Appearance>> Menu to do so. Then choose the page that you are using for your blog post. And simply add it to the menu.
Those changes can also be made using the theme customizer. To do so, navigate to the customizer section of your theme's options. To use the Customizer, go to Appearance>> Customizer. When you've arrived at the Customizer, look for the Home page setting. In most cases, the option to change the Home page and Blog page will be under the Home page. It may be different because of the themes in your case. However, you can usually find this setting under the Home page setting.
After reaching here then you will get the option for changing your home page and blog page. You can choose which page will use as your home page and which you will use as your blog page from here. After selecting the home page and blog page, you have to publish the page.
WarpingUp
I hope you found this article useful. If so, please let us know in the comments section below. We're continuously searching for ways to improve our content to offer the most excellent WordPress advice.
What is your preferred method of organizing blog posts on your site?
Let us know in the comments!
You can read the following articles also :
Best font plugin for WordPress 2021