Best WordPress classifieds plugin
Many people are unaware of the fact that they can make a classified WordPress website. Classified WordPress websites allow for private listings and offer options to search by location, category, or keyword. The sites also have features such as maps, ads, and advanced search options which help simplify the process of finding what you need. In this post, we will be going over how to make a classified WordPress website with the help of some great plugins.
How to make money with a classified website?
When it comes to making money with a classified website, I can assure you that there are several ways to make money. The key to making money with classified websites is providing an audience-friendly user experience so they keep coming back to you instead of going elsewhere. One way is to sell ads on your site which will generate revenue based on the clicks that happen from those ads. You can also include paid ads so that you can also make money from them. There are several ways to make money if you build a renowned classified site.
Why Use a Classifieds Plugin?
Many people use classifieds to find a new job, sell an old car, or buy a perfect home. But, how can you make your website a classified ad website as well? Classifieds plugins make it easy for you to list and create ads online. They can be used on any WordPress site and offer many options such as free listings with no expiration dates, paid listings with advanced features like images and video uploads, mobile compatibility for smartphones and tablets.
Best WordPress classifieds plugin

Classified Listing Pro is a special classified plugin that's ideal for anyone looking to create a fully-fledged, user-friendly listing platform. With this plugin you can easily build your own listings website cheaply and quickly – it's better than high street advertising! It boasts seamless integration with any standard coding theme and a ton of useful settings to make the perfect classified ad site.
Unlimited Custom Fields
User Friendly
Search and Filter functions
Frontend User Dashboard Options
Admin ad Control Options
Email Notification Options
Widgets and Shortcodes
Classifier is a premium plugin that allows you to create and manage listings, write articles and blog posts, and more. The classifier is also a powerful and flexible WordPress directory plugin. It is the option to create and manage classified websites like a job portal, car selling directory, book directory, travel directory, and other typing of the directory website.
User Dashboard
Own login and registration system
6+ home page layouts
Private chat system
Search Filter Options
Ad video option
Unlimited payment getaway
WPAdverts is also the most popular classifieds plugin for WordPress. It's been used on over 100,000 sites and has one of the best user support track records in the world. The new version of the plugin is fast, lite-weight, and seamlessly scales to any size. The plugin is super-easy to use, with a one-click install and is responsive on any device. It's also customizable, so you have full control over your classifieds site.
Responsive Design
Easy to set up, Easy to use
Multiple Extensions to choose from
Compatible to others Plugin
Bank Transfer payment gateway
12 translations available
Drag-and-drop image upload
Everything Documented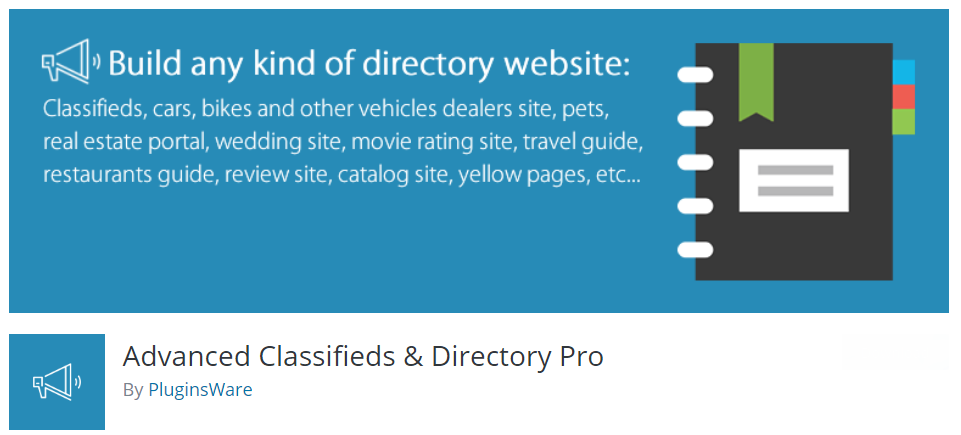 The next plugin in our list is Advanced classifieds & Directory Pro. It is a powerful, flexible, and high-quality directory plugin that allows you to create any type of directory site. This plugin is a true, easy-to-use, multi-purpose classifieds plugin. It comes with everything you'll need to start and maintain an online classifieds site quickly and easily! It supports widgets, has a customizable banner, and supports any post type! It also comes with many more features.
Backend Management
Customizable Layout
User Functions
Advanced Search Widget
Payment Plugins
Unlimited Custom Fields
Multifunctional Widgets
Email Notifications
Adding a classifieds section to your WordPress site has never been easier! With AWPCP (A WordPress Classifieds Plugin) you can easily add a classifieds section to your WordPress site, quickly and easily. You can create a classified ad for a car, house, job, dog, or anything else.
Extra Fields
Ratings and Comments
Coupons
Regions Module
BuddyPress
ZIP Search
Feature Certain Ads
DT Directory is a strong directory plugin that offers limitless possibilities. If you're looking to create a business directory website, an employee listing showcase, or if you need to post classified ads, DT Directory can help organize the whole process with just one easy-to-use interface. Even though this powerful resource has many features and abilities, it's still free for you to use!
Free version avalabel
10 predefined layouts
Advanced search system
Page Builders
Claim & Verify option
countdown timer
Tons of shortcodes available
Directorist is one of the most advanced WordPress directories plugin you can find on the market that has been designed to help you create online directory websites. With this plugin, you can build and manage a website like Yelp, Yellow Pages, Craigslist, and other popular business directory websites. Directorist has been built with a lot of interesting features that will help you build a distinguished business directory website. It is fast, secure, reliable, and loaded with features.
Free version avalabel
Custom Form and Layout Builder
CSV Bulk Importer
Highly Extensible and Customizable
Booking System
25+ Elementor Page Builder widgets.
Front-end and Back-end listing submission
Our recommendation
To add a classified area to your existing site, we've explored the 7 best WordPress classified plugins. You can use any of them because they are all extremely user-friendly and contain a variety of features for a classified website. Both free and premium plugins were discussed. Some of them are paid, but there is also a free version available.
When you compare the free and premium versions, you'll see that the paid version has more features than the free version. However, if you want to know what my opinion is, I recommend using Classifier. Although it is a premium plugin, But you can use it to create a gorgeous, attractive classified section. In fact, this plugin includes a number of useful features, such as a private chat system.
You can read the following articles also :
You can read the following articles also :
7 Best WordPress Themes For Personal Branding