It can be difficult to find the best FAQ plugin for WordPress. Fortunately, we've already done all the work for you! Our team has put together a list of 13 plugins that are simple to use and have excellent reviews. Before you publish your next post, have a look at our top picks!
What is the FAQ section?
A Frequently Asked Question (FAQ) section is a section where some of the most frequently asked questions are listed. There will always be a FAQ section on almost every website you visit.
Why Should use the FAQ Section?
Whether you're a blogger or providing a product or service online, you should always have a FAQ section on your website. Because FAQ section is a helpful place for readers to find answers to common questions about your product. The FAQ section has numerous advantages. If you're a blogger, you can use the FAQ section to answer the most frequently asked question on Google about the topic you're writing about. Your SEO score will rise as a result of this.
Alternatively, if you're selling a product or service, you should definitely use the FAQ section to answer any questions that your customers could have. It can solve your client's confusion regarding your products/services. FAQs help users in resolving their queries and gaining trust in your website.
In short words, no matter what your website is about, you should use the FAQ area.
How to add FAQ on your post or page?
You can include a FAQ section in your post in several ways. If you're using an SEO plugin such as Rankmath or Yoast Seo, you'll notice a FAQ option appears. However, the user interface will be simple. Alternatively, you can use any FAQ plugin. I'll show you some of the best FAQ Plugins so you can quickly create your FAQ section.
Best FAQ Plugin For WordPress (FREE)
1. Ultimate FAQ – WordPress FAQ Plugin
In our list, the 1st plugin is Ultimate FAQ – WordPress FAQ Plugin. This powerful plugin allows you to easily create and manage your own set of custom-written FAQ content on your site while seamlessly keeping them updated! You can answer as many questions as you need.
KEY FEATURES
Create unlimited FAQs
Create unlimited FAQ tags and FAQ categories
Gutenberg FAQ block
FAQ shortcode
Responsive layout
Group FAQ options
Insert custom CSS Option
2. Accordion FAQ
Accordion FAQs is a plugin that is exactly what you need. Add your answer to the unlimited number of FAQ items with an intuitive and easy-to-use builder. Accordion FAQ transforms your ordinary question page into a powerful content hub that makes it easier than ever to find the information you're looking for.
KEY FEATURES
Responsive Design
Use via short-codes
Unlimited color option
Bootstrap framework based
Font Awesome Icon Support
Slick Frontend and backend UI
All browser compatible
3. Arconix FAQ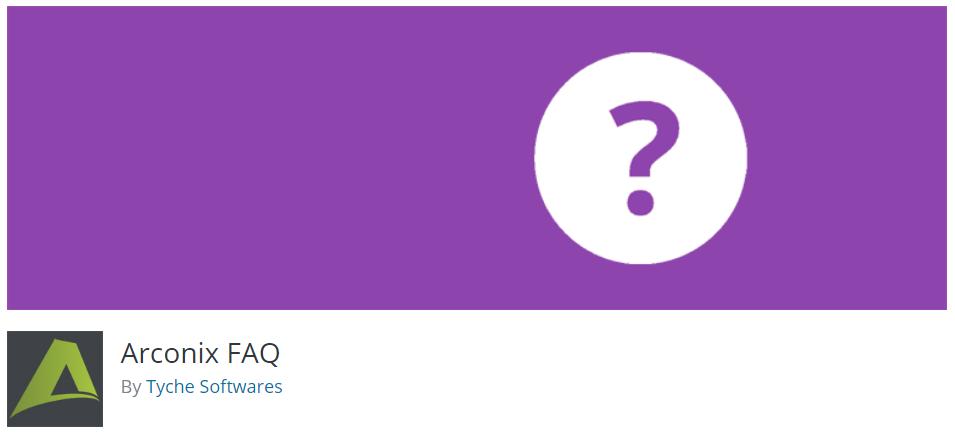 The Arconix FAQ is an easy-to-use, intuitive way to showcase frequently asked questions. It's mobile-friendly, and the shortcode can be used with several different display styles, such as an accordion menu or toggle button. FAQs can also be sorted into collections by tagging them during the creation process, and they are automatically saved, so you don't have to worry about losing your hard work!
KEY FEATURES
Responsive
Custom Post-Type
jQuery toggle
Accordion display when using the shortcode
It can be displayed individually
4. Easy Accordion – Best Accordion FAQ Plugin for WordPress
Well, don't worry! Easy Accordion for WordPress is what you've been looking for. It lets you quickly create an accordion compliant with any device screens such as desktop, laptop, tablet, or smartphone. This unique plugin provides advanced configuration options that allow you to easily customize your accordions appearance in an intuitive drag & drop editor.
KEY FEATURES
Responsive
Lightweight
Clean and intuitive admin panel
Multiple Accordions Collapsible or Toggle
Drag & drop Accordion sorting
Accordion Border options
Unlimited Color and Styling options
SEO friendly & optimized for speed.
5. WP responsive FAQ with category plugin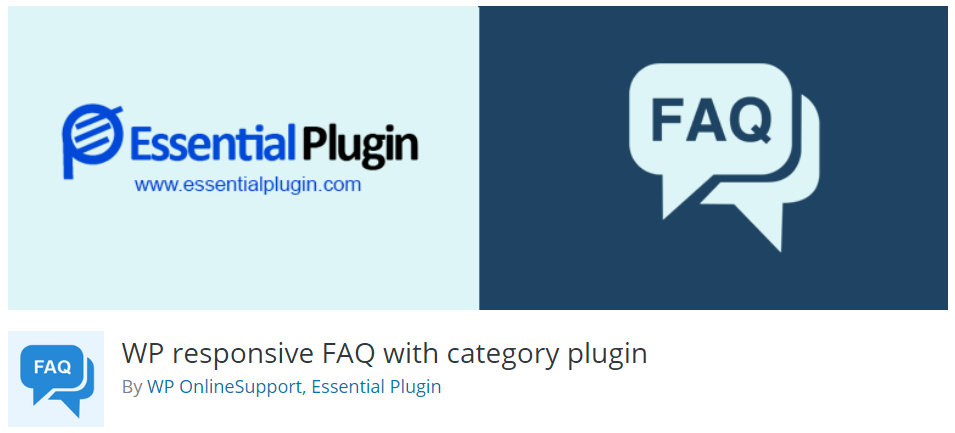 WP Responsive FAQ with Category plugin is designed to address the needs of business websites that need a well-organized solution for displaying frequently asked questions. This complete bundle brings everything you need in one single package, which is highly customizable, responsive, and versatile!
KEY FEATURES
Thumb image for FAQ
Easy to configure
Smooth FAQ Accordion effect
CSS and JS file for FAQ customization
Search Engine Friendly URLs
Also, work with Gutenberg shortcode block.
Added 15 predefined designs.
6. Quick and Easy FAQs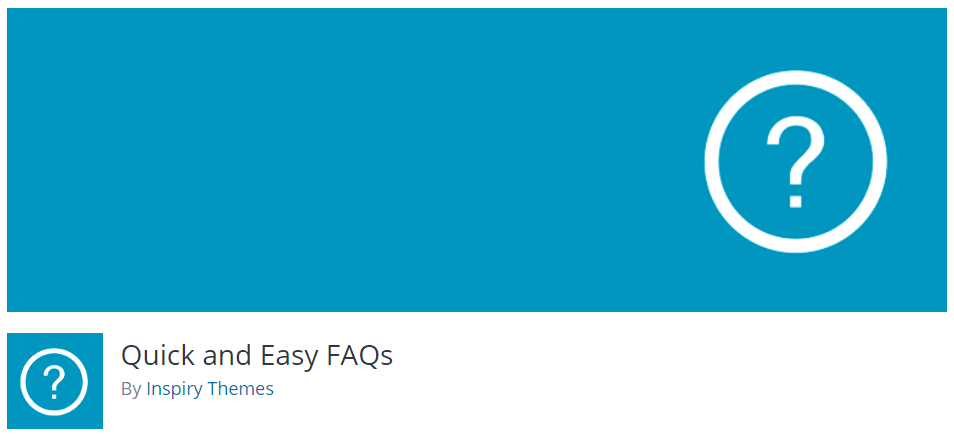 It provides a quick and easy way to create FAQ pages on your website using custom post types. This will help reveal your expertise, ensure user satisfaction in knowing what they're buying into beforehand, and deepen customer relationships by making them feel safe and respected.
KEY FEATURES
Easily add FAQs using FAQ custom post type.
list-style, accordion-style or toggle style option
FAQs in groups option
FAQs in filterable groups option
FAQs in sorted order by title or date option
Custom CSS box in the settings page
7. Helpie FAQ – WordPress FAQ Accordion Plugin
Easy Accordion contains excellent features for WordPress FAQ plugins. It uses responsive toggle or accordion-style, and it's possible to group questions together under categories with tags. You can use this as a primary shortcode builder to add FAQs to all pages and posts. It also has its own block in Gutenberg Editor, so you can create and edit your questions from within the content editor.
KEY FEATURES
responsive Accordion/Toggle
FAQ-Accordion block for Gutenberg
Automatically adds FAQ Schema
Basic FAQ Shortcode builder
FAQ-WooCommerce Integration
Add FAQs in bulk using Groups
Inline FAQ search-bar
Display Popular and Recently Added/Updated FAQs
8. Knowledge Base for Documentation and FAQs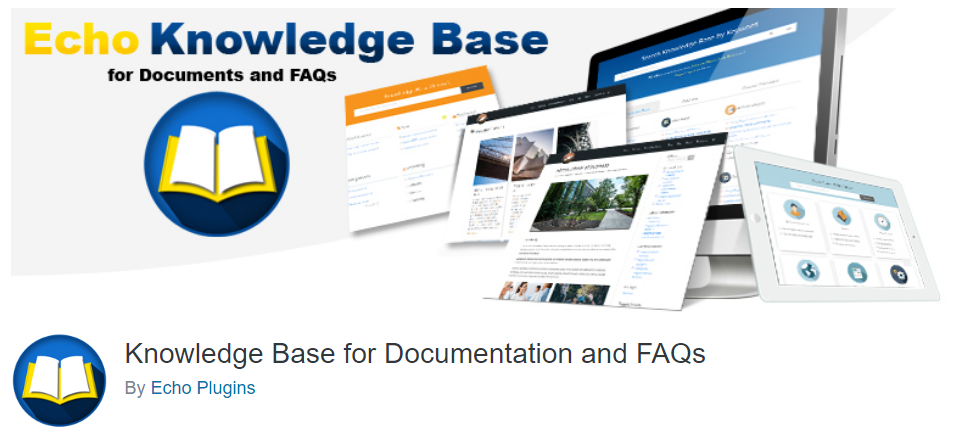 ECHO's Knowledge Base is a central place where you can help users, customers, and employees get the information they need. From setting up an on-staff site with everything from user guides to company policies, their database has pre-made designs that match your theme with easy frontend editing so you can mark down any changes in real-time.
KEY FEATURES
Responsive
Easy to customization
26 professional pre-made designs
Option for Organize Docs
Coded for best SEO results
RTL supported
Compatible with Elementor and Templates, Beaver Builder, Divi, Visual Composer, and others.
Best Paid FAQ Plugin For WordPress
9. Heroic WordPress FAQs Plugin
A better WordPress experience starts with the answer to your questions. With Heroic WordPress FAQs, you get a drag-and-drop interface and easy editing for a seamless publishing process, including adding rich content. Whether it's for marketing or technical support purposes, all you need is one page that looks great on any device – no matter how many new entries or custom fields it has. Matching your website branding is easy, too, with 5 included styles that give your FAQs a modern look and feel without having to stack images of colors and text over complex backgrounds like some other providers require.
KEY FEATURES
Drag & Drop Interface
One Page Simplicity
Add Rich Content
A Better Editing Experience
FAQ Configurator
5 Included Styles
15 FAQ icon choices
Improved SEO with schema.org
Translation ready
Looks Great On Any Device
10. Master FAQ – Highly-Customizable Responsive WordPress FAQ Plugin with WooCommerce Support

It lets you easily create a Frequently Asked Questions (FAQ) section with pre-built themes that could be customized without touching a line of code. The plugin has WooCommerce support that allows you to add frequently asked questions for anything related to your store. Furthermore, the Master FAQ WP Plugin seamlessly adjusts questions/answers on different devices + 5 pre-built templates available.
KEY FEATURES
5 awesome Themes
Highly Customisable
Responsive
Seo Friendly
Cross-Browser compatibility
11. FAQPlus – WordPress FAQ Plugin

Did you run out of time to build an FAQ section for your new WordPress store? Don't worry; count on the absolute best and most feature-rich Question and Answer plugin available on ThemeForest! FAQPlus is a complete solution with unlimited color variation and WooCommerce compatibility. And that's just the beginning.
KEY FEATURES
Multiple FAQ creation
Unlimited colors
jQuery Easing effect
Animation Speed
Shortcode Powered
Responsive Layout
Cross-Browser Compatible
Visual Composer Support
12. Accordion FAQ – WordPress FAQ Plugin

FAQPlus is a customer-friendly plugin that provides FAQs via a simple and attractive widget. You don't have to code anything. You just drag it into the desired position on any page or post. It lets your customers easily find answers to their questions with the help of automatic browser search or by simply typing words and phrases into predefined form fields for comments, suggestions, etc.
KEY FEATURES
Simple FAQ with minimum effort
Bring structure using categories
Display your FAQ the most user-friendly way
Accordion to add more focus
List layout for a straight look
Multicolumn distribution to save space
Ready-to-use templates
Ultimately responsive
13. BWL Advanced FAQ Manager
BWL Advanced FAQ Manager is the perfect WordPress plugin for adding a list of Frequently Asked Questions to your site. With an Unlimited number of FAQs and Zero Configuration requirements, this Advanced FAQ Manager plugin will be sure to save you time and get more people on board!
KEY FEATURES
Unlimited FAQs
FAQ Search & Suggestion Box
FAQ Pagination System
Rating System
FAQ Submission Form
Single FAQ Page
Built-in FAQ Widget
WarpingUp
If you're looking for an excellent FAQ plugin, we hope these 13 reviews will help you find the perfect one. We know it can be a challenge to evaluate plugins and figure out which ones are worth your time and money. But don't worry – our team has already done all the research so that you have access to only the best WordPress FAQ plugins on the market! Which of the plugins mentioned above do you believe is the best fit for your blog?
You can read the following articles also :
Learn How to Reset WordPress site (Easiest Method)