Google Analytics plugin helps you track your result from your WordPress dashboard So that you can make better decisions for your business.
There are hundreds of WordPress Analytics plugin, But in this article, we are going to compare only seven best WordPress analytics plugin that we have picked up long research.So get started
Do You Really Need an Analytics Plugin?
Wondering Is it helpful to add Google analytics plugin to your WordPress dashboard? You can see Google Analytics data straight from google analytics. Why bother installing an extra plugin to your site.
Ok, I want to ask you a question? How many times you open your analytics tools. I don't know about you, but I rarely open the Analytics tool. What if every time you log in to WordPress and see your website data? That's why you need a google analytics plugin. It may not be a strong reason for you, but anyone who has serious business must need an analytics plugin. They know how indispensable this data is.
Google Analytics is a free tool that is useful for tracking website data. Here are things you can get from google analytics :
How many people visiting your website
Know your audience demographics
Get real-time data what happening in your website right now
How much time your audience spent on your website
See when people bounce back to your website and many more
With this data, You can make quick decisions. That shape your business strategy and plan. So now, you have known how essential Google analytics plugin is. Let's move on our seven best WordPress analytics plugin.
#1. Analytify
Analytify is one of the best freemium WordPress analytics plugin. It has 50000+ active installations. It offers you an uncomplicated installation process to add tracking code to your website.
It allows you to view analytics data straight from your WordPress dashboard.
Features:
This plugin gives you some addons that increase the functionality
Get google analytics data under single post and page
Find out the list of top countries and cities
Get email notification
You also get the shortcode for custom statistics
Cost: Free. Premium version cost you $39
#2. MonsterInsights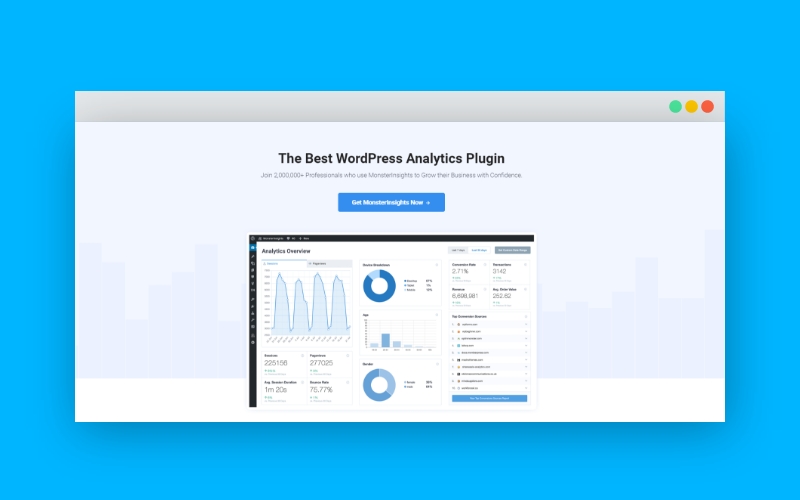 MonsterInsights is the most popular WordPress analytics plugin, with over 2 million active users.
With monsterInsights, You can connect your website very effortlessly so you can make data-driven decisions immediately.
Unlike other google analytics plugin, monster insights enable you all the advanced tracking system that matter. MonsterInsights is one of the complete analytics plugins in the WordPress directory.
#Features:
You'll get Detail report about your visitor device, country, gender and more
It has EU compliance addons so you can make your site GDPR compliance and other EU privacy regulations
It's compatible with any kind of themes
It gives you options to event tracking to collect data from any device
#3. ExactMetrics
ExactMetricks is the WordPress analytics plugin that helps you correctly set up all google analytics features. Without hiring any developer or code. It has over one million users who are actively using this plugin.
#Feature
It allows you cheek real-time data such as Number of visitors, traffic source, bounce rate, session duration
It provides you analytics straight from the dashboard so you can check all the essential data
It provides in-depth data of every page and posts separately, so you analyze data and optimize your page
It allows you to track event for Amp
Price: free
#4. Enhanced Ecommerce Google Analytics Plugin
Do you have an eCommerce store? Then utilize this Enhanced Ecommerce Google Plugin. This plugin has some limitations. It's not fully compatible with custom and child themes, and it doesn't support product types.
#Features
It uses the eCommerce tracking system of google analytics to help you track your online store
Shopping, checkout, sales and products – This four types of performance and behaviours support this plugin
Allow you to Audience, Acquisition & Behavior reports
It also set your local currency
#5. Google Analytics by 10Web
Google analytics by 10webs yet another great freemium plugin that we feature on our list. It's a straightforward plugin but get the job done for you. It has over 10000 active WordPress user.
#Feature:
Get analytics data from WordPress dashboard like any other plugin
In the WordPress admin area, you can set and manage your goals
You can be integrated with Google AdSense and google ad to get valuable data
Google analytics by 10Web lets you send email reports
Export CSV Reports
Price: Free
#6. WP google analytics Events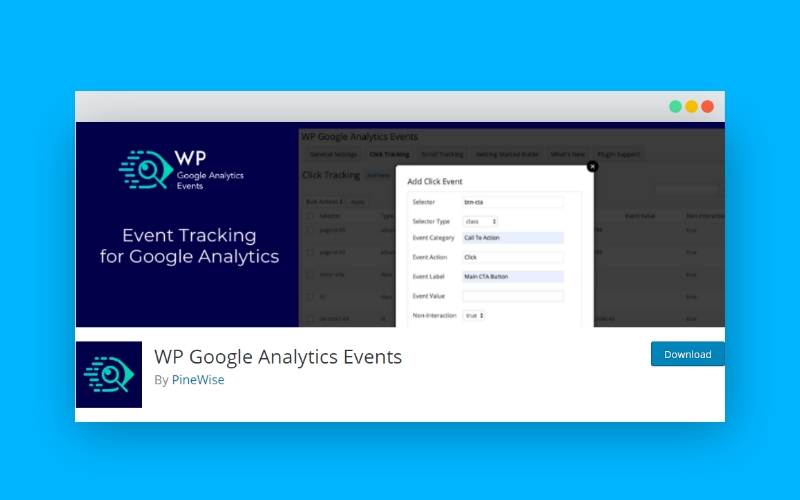 Do you want to track specific parts of your website without writing any code? This plugin can help you understand what your visitor does on your website.
It has some limitations. It only tracks events.
#Features
WP Google Analytics events track links, page navigation and CTA
You can use this plugin to compare CTA and other pages
Premium versions allow you youtube and Vimeo tracking
Cost: It's free. Premium version costs you $79
#7. GA Google analytics
GA Google Analytics is GDPR compliant analytics plugin, and it is very lightweight. But you can get minimal functionality in the free version of this plugin. If you want to an additional feature, you'll have to upgrade the premium version of this plugin.
#Features
It lets you customize tracking code
This plugin does not allow you to display in your WordPress dashboard
You can disable tracking of the admin-level user so you can get accurate data
Price: Free. Premium version cost you $!5
Which Analytics Plugin Do You Want to Choose?
After long research and comparing these best WordPress analytics plugins, we set a winner and winner is MonsterInsights because it offers a lot of useful features and lets you view the data straight from the WordPress dashboard.
We hope this blog post helped you decide which plugin you can use. If you like this post, please help us to share this post on your timeline.
Now I would like to know which plugin decides to use. Is it MonsterInsights or any other plugin? Or if you have any question, feel free to ask a question by leaving a comment below.
READ MORE
 7 Best WordPress Security Plugins 
 9 Best WordPress Backup Plugins (2020)