Best font plugin for WordPress 2023
WordPress is one of the most popular platforms for blogging or any kind of website. It has many benefits, such as easy to use, features, and design customization. Moreover, you can do customization without programming knowledge. In every part, you can customize as you want. There are many plugins available for different purposes of editing. There are also many font plugin available that allows you to change the font style of your website. In this post, we will talk about best Best font plugin for WordPress.
Why Font is important?
A website's Font is quite essential. Because Font can improve the appearance and appeal of a website, you can make your website more stylish by using a nice font. A trendy and appealing font can also help your website stand out from the rest. It can also make the text easier to read for readers. Many more reasons clarify that Font is an essential part of a website.
For some people, finding out how to change the Font on WordPress is a challenge. Most premium themes include a large number of Google Fonts.
And the developer can easily integrate custom fonts on the website. But the point is if you don't know how to code and don't have a premium theme, what should you do?
If that was the question, don't worry; you can change the Font with WordPress font plugins. You will know about some best font plugin for WordPress from this article.
Best font plugin for WordPress 2021
In our list, the first WordPress font plugin is Easy Google Fonts. It's a free google fonts WordPress plugin that lets you use Google Fonts on your blog. It also allows you to combine different font families to create unique font combinations. This plugin's settings are stored in the theme customizer so that you can see a live preview of your changes. It can also be used with any theme. There are several google fonts wordpress plugins available, but we've ranked this one first because it's the most popular one for changing fonts.

Features
Live Customizer Preview.
Over 600+ Google Fonts.
Works with any WordPress theme.
Translation Ready.
It can update the google font list with the latest fonts automatically.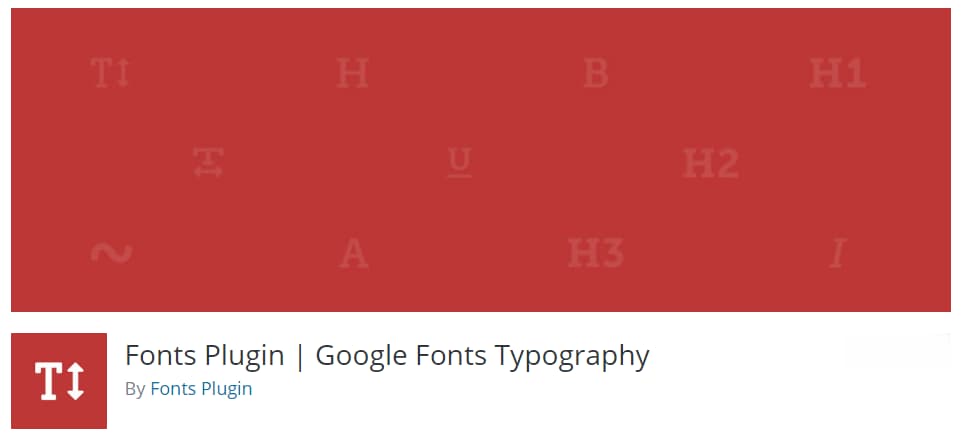 Fonts Plugin came in second on our list. The Fonts Plugin for WordPress is also a free plugin that adds the full Google Fonts library to your WordPress site and allows you to choose from over 1000 Google Fonts to use on your site. It also has a live preview feature. So, you can instantly test each Font and see a live preview of how it will appear with your content. It also offers you to host google font or custom Fonts on your site.
Features
Live Customizer Preview.
Over 1000+ Google Fonts.
Adobe Fonts (Typekit) integration.
Translation Ready.
Tested with PHP7.
Host Google Fonts Locally.
Upload Custom Fonts.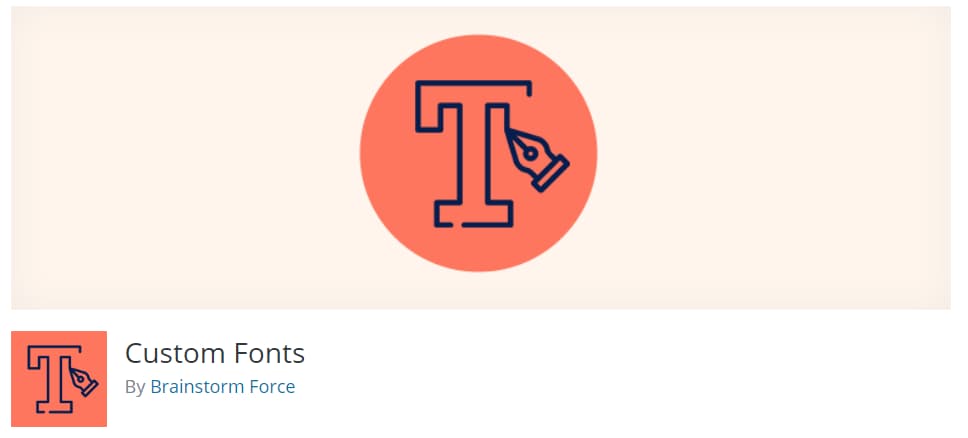 With 200000 active installations, Custom Fonts took the 3rd position in our list. If you are an Astra, Beaver Builder Theme, or Elementor Page Builder user, then you can definitely try this one. This plugin allows you to use any custom font you want or use the Google font if you wish to. The added Font will be shown in Astra / Beaver Builder / Elementor's settings.
Features
Easy to use.
Best for Astra and elementor.
Can embed custom fonts (woff2, woff, ttf, svg, eot, otf).
200000 + action installation.
One of the greatest wordpress font plugins is Use Any Font. It has a lot of features, including the ability to upload any custom fonts you want and give your site an elegant look. You can quickly change the Font without having CSS knowledge. You can also add a font to your site from their 23,871+ premade font library. It even includes Google fonts that you can download and install on your own server. You can use any ttf, otf, or woff formatted custom fonts.
Features
Quick and easy to setup.
Support all major browsers.
23,871+ predefined font collection.
Accepts custom font file upto 25 MB.
Multiple custom fonts can be used.
The next one on our list is OMGF | Host Google Fonts Locally. It has 40000+ active installations. It allows you to host the google fonts on your own server. This will enable you to embed any font on your site without the need to send requests to Google.
Features
Google Fonts that have been registered/enqueued will be automatically replaced.
Remove all Google Fonts that have been registered/enqueued automatically.
Manage Optimized Google Fonts.
Serve fonts from CDN.
Remove Resource Hints.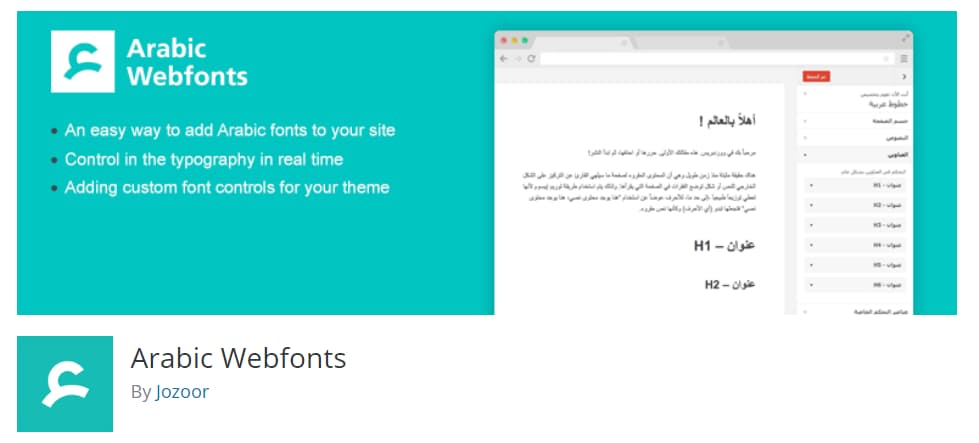 Arabic Webfonts is the next item on our list. Arabic Webfonts is a collection of web fonts targeted at professional designers and everyone else who wants to use beautiful Arabic typography. Webfonts are the future of Arabic type on screens. Using Arabic Webfonts in WordPress Customizer is a simple way to add Arabic fonts to any theme without coding.
Features
An easy way to add Arabic fonts.
Font type, size, and style are all under your control.
Adding custom font controls for your theme.
The option to reset all settings is available.
Swap Google Fonts Display is the next option on our list. It is the most basic plugin for Swap Google Fonts. You can easily swap to Google Fonts with the help of this plugin to ensure that the text remains visible throughout Webfont loading.
Features
Easy to Implement.
Mobile-friendly.
Any theme is compatible.
Styleguide – Custom Fonts and Colors is a lightweight, powerful, and fully integrated plugin. It also allows you to set a custom color for your theme's text, headings, and link text. Styleguide makes use of a carefully selected set of the top 45 Google Fonts to provide you with a wide range of customization possibilities for your website.
Features
Easy to use.
Get the fonts and colors you want.
Choose from a variety of fonts and themes.
Filter search by character set for languages like Russian.
Developer functionality: Add support for other themes, add additional fonts.
Warping up
The point of this article is to help you find the best font plugin for WordPress. You can use these plugins to change your fonts and make them more readable, or you can get a premium theme that offers tons of Google Fonts. However, if coding isn't your specialty, then you can use any of the above plugins that are listed above. If you want to know what I recommend, I'd say the first five plugins on the list are the best option for you. If you have any further queries, please post them in the comments area.
You can read the following articles also :
You can read the following articles also :
How to Change Font on WordPress In 2021